In this weeks Parsha, Yaakov gives Yosef a coat of many colours. This weeks craft is a "replica" of Yosef's coat.
You will need:
A picture cut out of a coat – a grownup can draw it for the child – be sure to cut enough for 2 sides (one for the front and the other for the back)
Coloured pens or scraps of colorful materials
Pipe cleaner
Scissors
Glue/Stapler
Here's what you need to do:
Decorate both pieces of the coat with either materials or coloured pens. Take the pipe cleaner, and form it into the shape of a hanger. Place the pipe cleaner hanger in between the 2 coat pieces and either staple it or glue it together (colorful sides out).
Like so!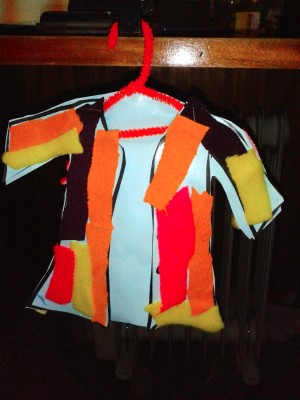 Enjoy your colorful masterpiece!
Comments
comments