In this week's Parsha, Yaakov Avinu has a dream. In his dream there is a ladder with Malochim (angles) going up and down it.
This week's craft is short and simple.
You will need:
4 popsicle sticks (I used coloured ones)
A handful of craft matchsticks (again, I chose the coloured ones)
Card stock or construction paper (I like the effect the black card gives)
One small piece of cotton wool or cotton balls
Glue
Directions: assemble the popsicle sticks and matchsticks into a ladder form and glue it onto your card. Stick the piece of cotton wool above the ladder.
Like this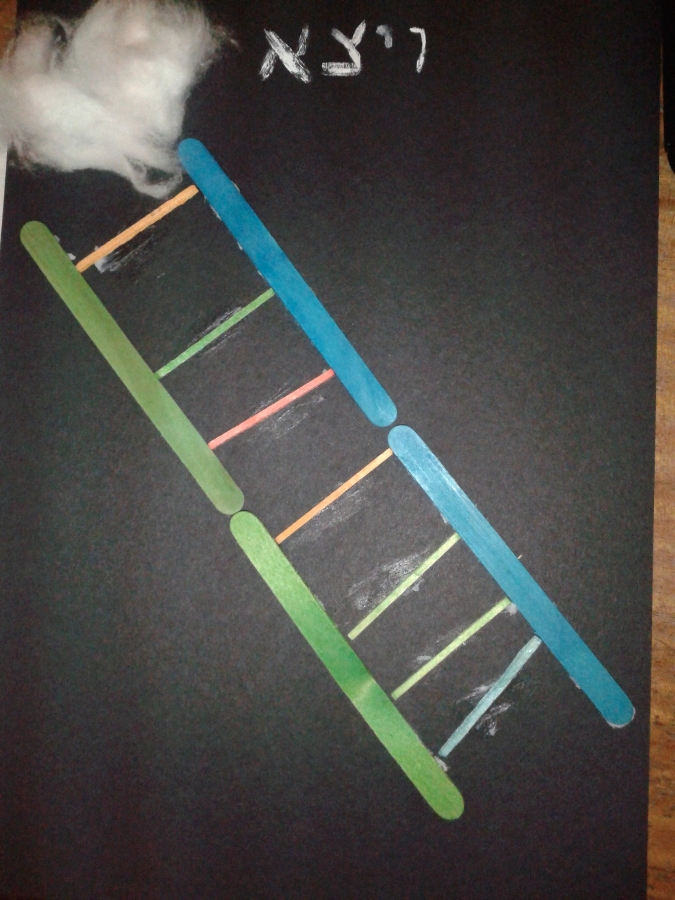 For older children, draw a picture of Yaakov sleeping and stick it at the bottom of the ladder – you can also go and look for 12 pebbles to stick around him.
For an even more advanced craft, punch a hole at the top and bottom of the ladder; draw a picture of some Malochim and thread the some string through the holes in the card stock and the Malochim pictures. Tie it at the back – you have now made a craft with the Malochim going up and down!
Have a wonderful Shabbos.